Building a Hut Page 3
Roof Coverings, Rainwater Goods and Flues
• Roofs should be covered in bituminous or mineral roofing felt. Alternative suitable roofing materials may be considered such as corrugated metal or polycarbonate sheeting.
• Roof colour should be black, dark grey or dark green.
• Designs should not exceed one story in height, with roof pitches between 15 - 35 degrees.
• Overhangs (Fig 27), gutters and downpipes to pitched and flat roofs are recommended as they add protection to walls.
•
Rainwater gutters should be half-round dark grey or black in cast-iron, aluminium or plastic.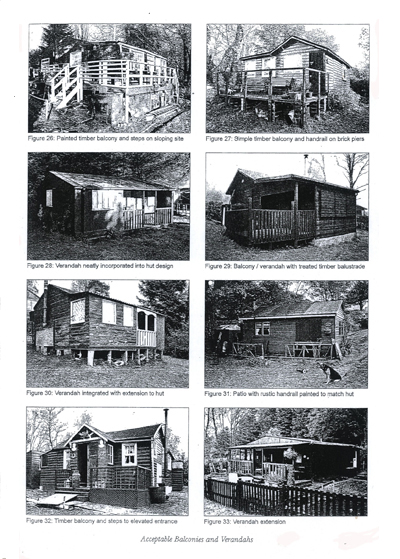 • Downpipes should be dark grey or black in cast-iron, aluminium or plastic,
Metal flues exiting through the roof or taken up rear or side walls, or external brick wall stacks are recommended (Fig 34).
• Conventional chimney stacks on roofs are not in keeping with the historic hut style.
External brick stacks should terminate in a clay pot, with or without a cowl or 'whirling granny'.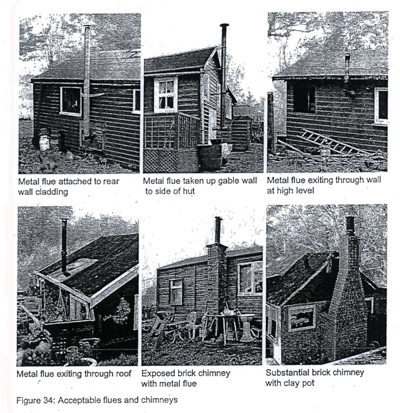 Garages, Outbuildings, Sheds and other Ancillary Structures
• Garages or car ports are not characteristic of Carbeth and are not recommended; parking stances or hard-standings are preferred (see following section).
Outbuildings or sheds if detached from huts should be clad in materials to match the main building or similar. They should be sited to the rear of the plot or main building.
• Sheds and stores should have pitched or monopitch roofs covered in bituminous felt, corrugated-iron or metal as appropriate. Such buildings should be small in scale and generally not exceed one tenth of the primary building floor area (Fig 35).
Where sheds and outhouses form an extension to a hut, they should be small scale (no more than one tenth floor area) with lean-to or pent roof in materials to match the main building

Vehicular Access, Gates, On-plot Parking and Visitor Parking
• The vehicle access point should be gated and to one side of a hut. Where the site is fenced, gates should match the fencing to give the appearance of a continuous boundary enclosure, although field-type gates are acceptable in a rural setting like Carbeth.
• Large solid or continuously paved car parking surfaces are inappropriate. If the ground surface can take it, cars should be parked on the grass. A stance for a single car only is permitted.
• Where on-plot ground conditions are soft or unsuitable, part grass with intervening grey or river washed gravel, or single slab paving with intervening grass, river washed gravel, sandstone or whin chippings is recommended. 'Grasscrete' blocks limited to one car length may also be allowed. The intention is to maintain as natural a ground surface as possible, appropriate to a rural, rather than an urban, setting.
Where the only option is off-plot parking, this should be on grass, but where ground conditions are unsuitable, a narrow parking bay (not exceeding one car length) may be formed. Larger parking bays are only acceptable when serving several plots and shall be limited to no more than 3 spaces, end on to the roadway. Where not grass, parking bays should match the road surface.
• On-site camping is not permitted whether in tents, motorized caravanettes, or caravans.
Visitor parking must be confined to existing car parks and road lay-bys
Fences, Dykes and Pedestrian Gates
• Traditional Chestnut paling, Spirea hedging and Privet hedging have been the primary means of enclosure to individual plots from the beginning. Rhododendron, Holly and Beech hedges have been used to a much lesser degree. Often, the fencing is still found inside the hedging. These materials individually or in combination, should continue to be used for demarcating plot boundaries.
• For fencing, Chestnut paling is recommended, but where this is too expensive, vertical timber spar fencing may be acceptable. This should be regularly spaced, well maintained and generally not exceed one metre in height. It may be erected in combination with the traditional hedging.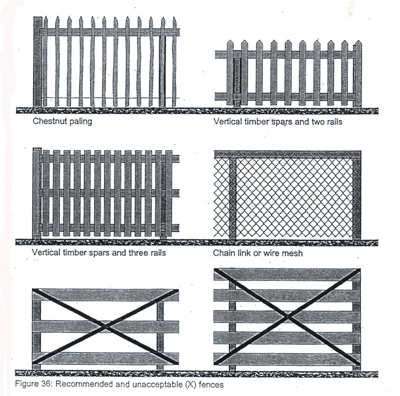 Paths
• If possible, paths and access ways should be formed through the natural grass.
Where the ground conditions are soft, bark paths between logs or cinders may be used. Continuous concrete slab paving is not recommended, but slabs, if essential, should be inserted in stepping-stone fashion to maintain the rural character. Timber Duckboards are appropriate for paths crossing marshy ground.
• Rights of Way and other countryside paths should be kept free of obstruction and properly maintained. Traditional timber or metal way-marking posts, in keeping with existing signage, is recommended.
Miscellaneous
• The use of CCTV is acceptable provided equipment is neatly erected and discreet. Fixing equipment to nearby trees is encouraged where practical.
• Battery powered TVs are often used. TV aerials should be neatly erected and placed at the rear of huts, if possible. Satellite dishes are unsightly and discouraged.
• There is no on-site electricity. Alternative forms of lighting require careful consideration to avoid potential fire hazard. Candle power, paraffin and bottle-gas lights electricity generation is rare on site, but is a future energy source to be explored and developed.
• Gas cylinders should be kept in a secure store on each plot and cylinders returned to the supplier when empty. They are best stored away from the hut.
• Powered generators have been the cause of complaint because of noise. Some generators are quieter than others by virtue of their overall design, so it is worth exploring what is available on the market. It may be sensible to undertake a study of most efficient models for future guidance to hutters. It is possible to fit a silencer to dampen the noise.
• Floodlighting is inappropriate because of light pollution. Solar powered lighting technology is improving and may provide a future energy source.
• Water barrels and tanks on metal or timber trestles are a common feature allied to the huts, and should be placed against the rear or side walls of the hut. The tank and trestle should be painted or in a plastic colour to match the hut.should be used sensibly.
DISCLAIMER: The information contained within this page is offered as a guide. It has been taken directly from a Stirling Council document, produced to assist hutters and to provide clarification with regard to what is and is not acceptable within the hutting area of the Carbeth Estate. If you have any questions or doubts, please speak to one of the directors BEFORE you start your planned work.