Building a Hut Page 1
Before you start: In order to get a clear picture in your mind, before you start, here's a few basic points to consider. Remember, the more thought invested before you start building, the more successful your experience will be.
• Determine what size hut you require: Sounds simple, but you should ask yourself realistic questions like, How many people will regularly use the hut? Remember: the larger the hut, the more heating it will require.
• Visit other huts, check their size and construction. Look for a good example that would suit your needs - preferably a Basic, Solid, Warm and Easy to construct hut.
• Estimate the cost of materials. Re-cycled timber, doors and windows are preferred by the Council.
•
Important: Speak to the CHCC Directors - all of them are happy to help and advise.
.
STIRLING COUNCIL'S HUT DESIGN GUIDELINES
The information duplicated below, comes from the official guidance notes issued by Stirling Council on Hut Design. Please read through it and make sure you understand it. If you require any further guidance or assistance, please don't hesitate to get in touch with the Hutter's Company...
General Design of New or Replacement Huts
• It is essential that huts do not over dominate a site or break from the traditional rhythm of old-style, World War II type huts. Buildings should be of a scale and character that is in keeping with traditional hut proportions and the historic "garden city" landscape character. A reasonable distance to boundaries of at least two metres should be maintained.
• The external design should reflect the function of the building as a holiday hut, and not display the normal characteristics of a bungalow, house or chalet.
Designs should show individuality and diversity of appearance, using a mixture of dimensions and volumes, with the use of purpose-made components.
• Large monolithic structures will be discouraged. The ground plan may be based on a typical historic Carbeth hut - oblong (maximum floor area of 23 sq m (250 sq feet)), and into smaller extensions which are in keeping in scale and character, but which do not dominate the main structure (Figs 3 and 4).
• Recycled and environmentally friendly materials and those from sustainable sources should be used.
Extensions
No extensions to the front of a hut will be permitted, other than a traditional porch, a narrow area of timber decking, a balcony or verandah projection. Steps should be of timber, with a timber handrail if over three steps in number (for safety reasons).


Vacant Plots
• Vacant or abandoned plots should be developed as soon as possible. Such plots should be cleared of rubbish or hut debris by the plot tennant under the terms of their lease or as part of regular site clean ups. Abandoned waste has a detrimental visual effect on the area and can be a possible health hazard.
Foundations and Underbuilding
• Concrete foundations, blockwork or brick piers, railway sleepers or timber post foundations should be sufficiently robust and level to meet the requirements of the job.
• White or green lattice-work or spars to underbuilding (Figs 3 and 4) keep out vermin, hide material stored underneath a hut, and are a long-standing traditional detail which should be sustained.
• A skirt of lattice-work may also be used to disguise modern concrete or other exposed foundations. Examples...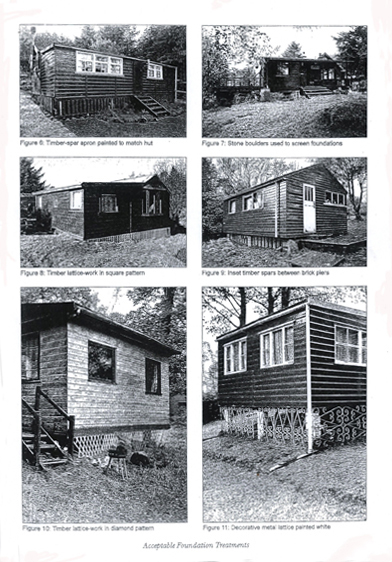 Figure 12 (below): Small matching pitched roof extension using a change in floor level to maintain the identity of the original hut unit.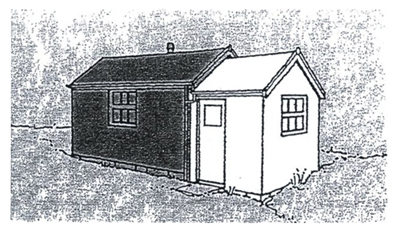 Figure 13 (below): Simple extension with mono-pitch roof, providing an L-shape floor plan and allowing the form of the original hut to remain distinctive.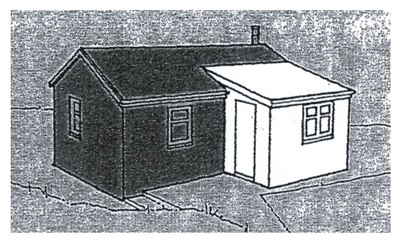 Figure 14 (below): Mono-pitched double extensions retaining a compact plan form and having a minimal effect on the form or the original unit.