Latest News
Carbeth Gala Day 2017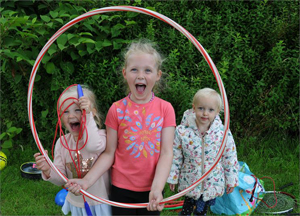 The sun shone brightly for the 2017 Gala Day and Carbeth's Hutters took advantage of the glorious weather by having a full day of fun and frolics. Tug of war, races and games were enthusiastically attended. The music as usual was exceptional; a reflection of the extraordinary number of talented people in our midst. Soup, tea and cakes helped fuel proceedings, altogether a wonderful and much enjoyed day of community festivities. You can see more at CARBETH GALA DAY 2017
New Land Buy May 2017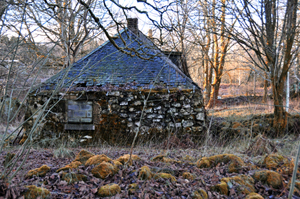 In May 2017 the company bought 50 acres of land adjoining the Hutters estate. The area contains the historical Drovers Inn pictured left
The Carbeth Hutters Community Company have plans to develop the land for the good of the greater community with a museum, a memorial woodland, wood school, hutting museum and unique off-grid visitor center.

Canadian Visitor Sept. 2016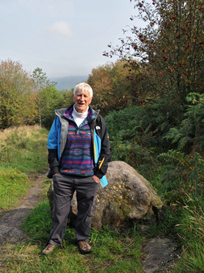 Carbeth recently had a visit from a Canadian Hutter, Willie Dougall aged 85. Willie, originally from Clydebank, emigrated to Canada in the early fifties and built his 'cabin' or 'cottage', as huts are known in Canada, shortly thereafter

The Canadian Government, keen to populate the vast expanses of the country were selling lakeside land at 60 cents per linear foot. Willie bought 160 feet and built his cabin from cedar.

The site could only be reached by boat, had no power or transport access and the task took two years.

The last census of huts in Canada in 1991 recorded 216,000 in Ontario alone. They range in size from single room cabins to 5 star luxury lodges with seaplane moorings.
Carbeth Gala 2016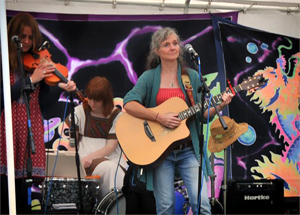 Despite the foul weather and continuous downpours the 2016 Gala went ahead. Reduced numbers did not dampen the enthusiasm. The bands entertained a highly appreciative audience who responded with rapturous applause and praise. Stalls, soup, and a bouncy castle all added to keep spirits high.
More images can be viewed at CARBETH GALA DAY 2016
Road Resurfacing July 2016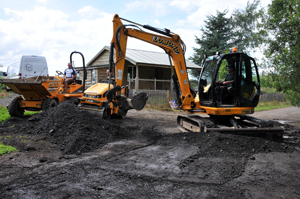 Photographed on day three of our road repair and maintenance week.
A picture of the team, Tony, Alex and Stevie in action. Carbeth's Ranger, Gary, not keen on being photographed, was toiling as hard as the rest of the team.
New Zealand Visitors March 2016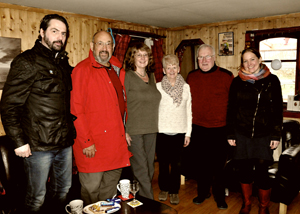 Linda and Christopher Constable made the journey all the way from New Zealand to visit her parents home in Carbeth. In 1945 the her parents could not find a place to stay. Carbeth became their first home. A few years later Linda was born nearby. Linda's mother always spoke fondly of her first home and it was a lifelong ambition to visit.. Linda and Christopher (second and third from left) were delighted with the hospitality and welcome they received.
Carbeth Gala Day 8th August 2015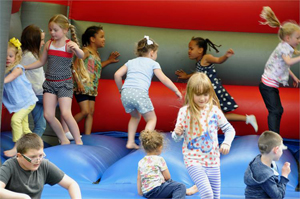 A great time was had by all at the 2015 Carbeth Gala Day. A huge attraction to Carbeth's children was the Bouncy Castle. Live music from a host of entertainers made the day go with a swing. Raffle prizes, stalls, craft demonstrations and food provided by Carbeth volunteers added to make a memorable day for all who attended.
More images can be viewed at CARBETH GALA DAY 2015
Sat 6th and Sun 7th of Sept. 2014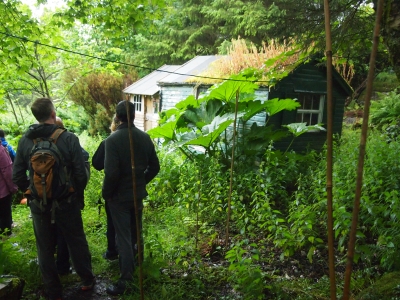 Many people grabbed this amazing chance to take a tour of Carbeth Huts and find out about the history of Hutting, hutting life, the evolvement of the huts and their restoration. The tours focused on 'Restored Huts' and 'Huts Old and New'. Both tours involved walking around some of the less well-known areas, speaking to hutters and getting offered at least one cup of tea! Tours lasted one hour, depending on the weather and how chatty everyone was.
Visitors are also welcome to wander around the whole of Carbeth Conservation Areas at any time.
The Seven Sisters of Carbeth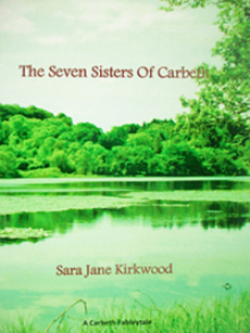 2014 saw the publication of The Seven Sisters of Carbeth by Sara-Jane Kirkwood.
Sara-Jane has been coming to Carbeth as long as she can remember. Written at her hut on Carbeth Hill, the stories weave together historical happenings with fairy tale characters.
Many of the stories have been passed down through generations of her own family and the wider hutting community. Sara's book is available on Amazon and as a Kindle download.
Community Award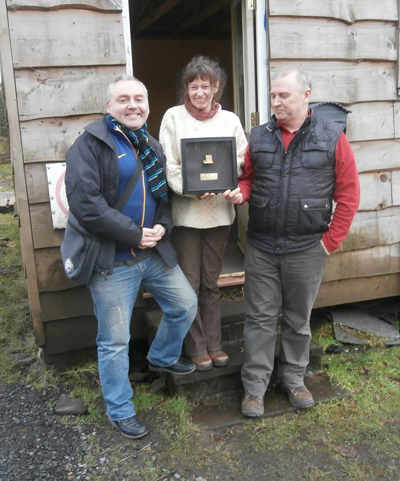 Scott Donohoe, Morven Gregor & Alan Graham with the Camcorder Guerilla's Community Award which was made to the Company at the end of 2013.
Camcorder Guerrillas is a Glasgow community-based, voluntary collective of professional filmmakers, artists and activists, working together to make and showcase documentaries for those concerned with human rights, welfare and social justice initiatives
News
Please return to this page for future news updates.